Jinma 24HP Tractor with European Certificate (JM-244E-MARK tractor)
Product Description
Model NO.:

JM244E

Usage:

Farm Tractor , Lawn Tractor

Drive Wheel:

4WD

Size:

Small

Condition:

New

Drive Type:

4WD

Clutch:

Dual-Stage

Trademark:

jinma

Specification:

export good quality

HS Code:

87081900
Type:

Wheel Tractor

Certification:

CE, ISO9001

Fuel:

Gas / Diesel

Color:

All Colour

Model:

Jm-244e

Engine Model:

Km385te

Options:

Roll Bar, Canopy

Transport Package:

Export Iron Frame

Origin:

China
JINMA 244E(4WD) Four Wheel Tractors Technical Parameters 

Model

JM-244E

Drive Type

4WD

Overall Dimensions 
L*W*H(mm)

3185x1440x2530

Wheel Track(mm)

Front

1100

Rear

1040-1200

Wheel Base(mm)

1645

Ground Clearance (mm)

295

Rated Traction Force(N)

5980

Construction Mass(kg)

1380

Min.Turning Radius(m)

2.80

Theoretical Speed(Without creeper)( km/h)

Forward

1.73,3.42,5.71,8.01,15.80,26.40

Reverse

1.37,6.35

Engine

Model

   KM385TE

Type

3-Cylinder Vertical,water cooled,4 stroke cycle

Rated Power(kw/hp)

17.6/24

Rated Speed (rpm)

2350

Bore*Stroke(mm)

85*90

Total Displacement(L)

1.532

Drive 
System

Clutch

Dual-Stage

Gear Box

(3+1)*2

Main Drive

One Pair of Spiral Bevel Gearing

Differential

Bevel Gear

Differential Lock

Jaw Lock

Final Transmission

External gearing, Spur Gear

Traveling 
Mechanism

Tyre

Front

6.00-16

Rear

9.5-24

Steering Gear

Full Hydraulic Steering

Brake

Disc type

Working 
Device

Hydraulic System

Lifting Capacity at 610mm Behind Lift Point (N)

4200

3-Point Suspension

Category:I

P.T.O 
Shaft

Speed (rpm)

540/1000

Spline Size

6-Φ35Rectangular Spline

OPTIONS
ROLL BAR,CANOPY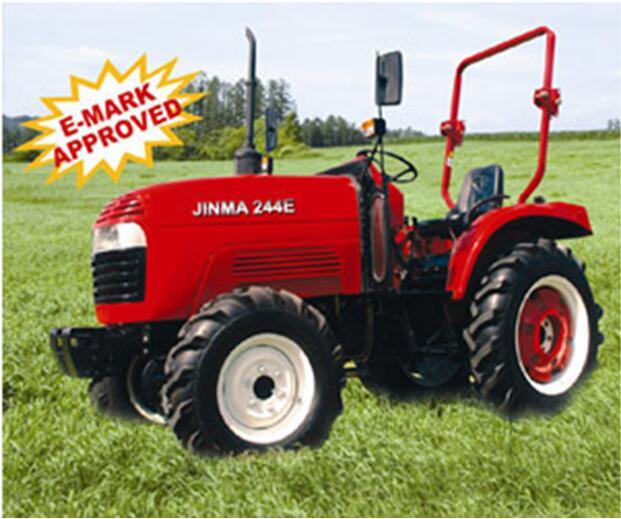 Jinma tractor
, jm tractor, jinma tractors, jm tractors, dongfeng tractor, dongfeng tractors, df tractor, df tractors, east wind tractor, east wind tractors, foton tractor, foton tractors, ft tractor, ft tractors, luzhong tractor, luzhong tractors, JM204, JM254, JM284, JM304, JM354, JM404, JM454, JM504, JM554, JM604, JM654, JM704, JM754, JM-204 tractor, JM-254 tractor, JM-284 tractor, JM-304 tractor, JM-354 tractor, JM-404 tractor, JM-454 tractor, JM-504 tractor, JM-554 tractor, JM-604 tractor, JM-654 tractor, JM-704 tractor, JM-754 tractor, JM204 tractors, JM254 tractors, JM284 tractors, JM304 tractors, JM354 tractors, JM404 tractors, JM454 tractors, JM504 tractors, JM554 tractors, JM604 tractors, JM654 tractors, JM704 tractors, JM754 tractors, JM-204E tractor, JM-244E tractor, JM-304E tractor, JM-354E tractor, JM204EEC tractors, JM244EEC tractors, JM304EEC tractors, JM354EEC tractors, JM204EC tractors, JM244EC tractors, JM304EC tractors, JM354EC tractors, jinma 20hp tractor, jm 25hp tractor, jinma 30hp tractor, jinma 35hp tractor, jinma 40hp tractor, jm 45hp tractors, jinma 50hp tractor, jinma 55hp tractors, jinma 60hp tractor, jm 65hp tractors, jinma 70hp tractor, jinma 75hp tractors, jinma 4wd tractor, jinma 2wd tractor.
Front end loader, front loader, loader, backhoe , 3pt backhoe, Mower , finishing mower , topper mower, flail mower, rotary cutter, bush cutter, rotary dump mower, Disc Mower , Disc harrow , slasher,
Rotary Cultivator
,
Rotary Tiller
, rotary tillers, rototiller, rotocultivator,
log splitter
, wood chipper , shredder, Trailer , tipping trailer, tipping transport box, carry-all fork attachment, carry-all, ripper pipelayer, ripper, Sprayer , box scraper, blader, scraper, grader, grader blade, snow blower, road sweeper, star machines, baler, MRB0850
Round Hay Baler
, MRB0870 round hay baler, TRB0910 Round Baler , round baler, mini round baler, square hay baler, THB1060 square hay baler, THB2060 square hay baler, THB3060 square hay baler, wrapping machine, wrapper, SWM0810-E wrapper, SWM0810M wrapper, MGR2500 rotary Hay Rake , MGR4000 rotary hay rake, rotary hay rake, disc mower, MDM1300 disc mower, MDM1700 disc mower, Star machinery, star machine, star baler, star balers, Star-Japan machinery, IHI star machinery corporation, towable backhoe, ATV flail mower, towable sprayer, logging transporter, muck truck, mini dumper, power tiller, walking tractor, self profelling reaper,
Post Hole Digger
, Digger , landscape rake, bale speed, carry-all attachment, Spreader , water pump, generator, cab, cabin, plough, three-furrow plough, four-furrow plough, excavator, three
Share Plough
, four shae plough, five shae plough, ditiching machine, bush hog, snow blower, driven plough, Bulldozer , mini dozer, yuchai bulldozer, track tractor, mistblower, mist blower, mist sprayer, Mist duster , solo sprayer, solo mistblower, solo mist blower, solo 423, solo parts, solo 423 parts, SR-420 parts, SR420 Spare Parts , ATV mower, ATV120 mower,
Garden loader
, dumper, power barrow, ect.
Wood chipper, shredder, WC6 wood chipper, WC8 wood chipper, WC-6 wood chipper, WC-8 wood chipper, WC-10 wood chipper, DC-20 wood chipper, wood chippers, wood processing machine, BX42S wood chipper, BX62S wood chipper, BX62R wood chipper.
Model: JM-244E
Trademark: jinma
Unit: Unit
Origin: China
Min order: 1
Transportation: Container Freight & International Multimodal Transport
Payment: T/T
Product Description:
JINMA 244E Four Wheel Tractor Technique parameter:
JINMA 244E(4WD) Four Wheel Tractors Technical Parameters

Model

JM-244E

Drive Type

4WD

Overall Dimensions
L*W*H(mm)

3185x1440x2530

Wheel Track(mm)

Front

1100

Rear

1040-1200

Wheel Base(mm)

1645

Ground Clearance (mm)

295

Rated Traction Force(N)

5980

Construction Mass(kg)

1380

Min.Turning Radius(m)

2.80

Theoretical Speed(Without creeper)( km/h)

Forward

1.73,3.42,5.71,8.01,15.80,26.40

Reverse

1.37,6.35

Engine

Model

   KM385TE

Type

3-Cylinder Vertical,water cooled,4 stroke cycle

Rated Power(kw/hp)

17.6/24

Rated Speed (rpm)

2350

Bore*Stroke(mm)

85*90

Total Displacement(L)

1.532

Drive
System

Clutch

Dual-Stage

Gear Box

(3+1)*2

Main Drive

One Pair of Spiral Bevel Gearing

Differential

Bevel Gear

Differential Lock

Jaw Lock

Final Transmission

External gearing, Spur Gear

Traveling
Mechanism

Tyre

Front

6.00-16

Rear

9.5-24

Steering Gear

Full Hydraulic Steering

Brake

Disc type

Working
Device

Hydraulic System

Lifting Capacity at 610mm Behind Lift Point (N)

4200

3-Point Suspension

Category:I

P.T.O
Shaft

Speed (rpm)

540/1000

Spline Size

6-Φ35Rectangular Spline

OPTIONS
ROLL BAR,CANOPY
Contact us if you need more details on Jinma Tractor. We are ready to answer your questions on packaging, logistics, certification or any other aspects about Jinma EEC Tractor、Jinma Ce Tractor. If these products fail to match your need, please contact us and we would like to provide relevant information.
Product Categories : Jinma tractor